Peyton Renwick, Reporter
May 11, 2022
The Detroit Lions football team has been struggling the past few seasons, and they had a lot to make up for. Their last playoff appearance was back in 2016, and they are constantly battling just to get...
Peyton Renwick, Reporter
May 10, 2022
On Apr. 28 through Apr. 30, the 2022 National Football League draft took place in Los Angeles. This draft brought needed help to the Detroit Lions, and it may lead them to a great season. Fans cannot help...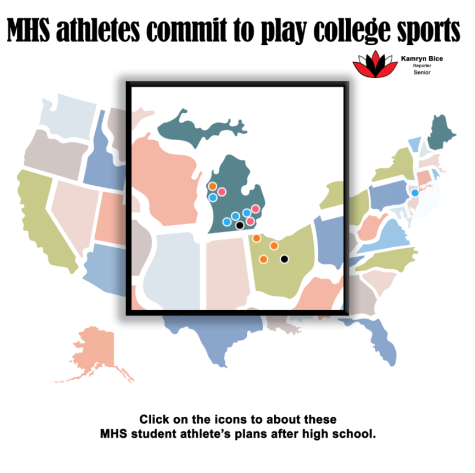 Where are Monroe High athletes committing?
April 26, 2022
"Guns don't kill people, people kill people." The phrase is seen on t-shirts, bumper stickers, hats, and more places in everyday life. But, guns do kill people. Guns...
Tristan Mann, Chief Editor
October 7, 2022
Dan Rhoades Track and field athletes run pretty fast, as does Sonic the Hedgehog. Guess who has a pet hedgehog? Dan Rhoades. Rhoades, on top of having a pet hedgehog, is also a member of the track team. He not only runs on track, but also is running...
Homecoming 2022 Queen Candidates
October 7, 2022
Lexi Schade The Homecoming Dance is one of the token events for Homecoming and one of the candidates this year, Lexi Schade,...
How and why to vote in Michigan
October 5, 2022
As midterm elections come around, the importance of using your voice to create change in the community you live in becomes...
October 4, 2022
There are some new faces in the Assistant Principal's office at MHS this year. Mandi Bomia is the new junior class assistant...