Michigan Gov. Whitmer announces "Safe Start" plan
On May 8, Michigan Gov. Gretchen Whitmer unveiled a new statewide plan of action for recovery from the Coronavirus pandemic. The plan was unveiled with a detailed graphic that displays the six stages of the virus and what precautions must be taken, from "Uncontrolled growth" to "Post-pandemic."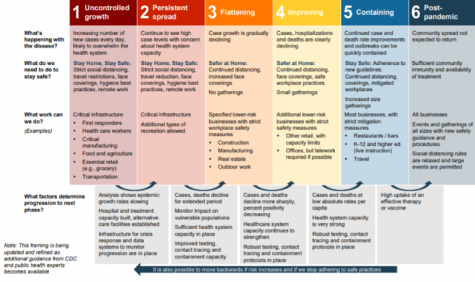 The first stage of recovery, "Uncontrolled growth," occurs during an "increasing number of new cases every day." During this stage, officials recommend the use of strict social distancing, travel restrictions, face coverings, and remote work. Critical jobs such as grocery employees, medical staff, and agriculture workers would remain operating during this stage. 
During the second stage, "Persistent spread," citizens would continue to see high amounts of cases, and that such restrictions as those in the first stage should still be taken. However, additional types of recreation would be allowed. 
In the third stage, "Flattening," the case growth would be "gradually declining," but with the expectation of continued social distancing and use of face coverings. That said, lower-risk businesses, such as construction, real estate, and outdoor work, would then be allowed to open with strict safety measures. 
The fourth stage, titled "Improving," occurs when the presence of the virus would be declining. Precautions like distancing and masks would still be taken, and small gatherings can take place. The government graphic also lists businesses such as non-essential retail and offices which would be allowed to reopen with extreme caution during this stage.
In the fifth stage, "Containing," the number of cases and deaths would continue decreasing and outbreaks would have the expectation of being able to be contained quickly. Continued distancing and coverings would still be expected, but allowed gathering sizes would increase. As for the work allowed, restaurants, schools, and travel would be expected to resume. 
Lastly, the sixth stage is called "Post-pandemic." It is at this point at which quite high immunity would be expected, and that treatment should be available. All businesses would be allowed open, with gatherings and events of all sizes, but new and lasting procedures and guidance would be in place. 
On Twitter, Whitmer explained that the judgment of the condition of Michigan to determine which stage Michigan is in will need to be done carefully and with high regard for the number of infections and deaths in the state.
"How do we know what phase we're in? We'll join public health experts in evaluating the best available data to assess the degree of risk and readiness, while factoring in the on-the-ground reality. In short, we'll continue to make decisions based on facts and data. Nothing less," Whitmer stated.
Whitmer also took the time to reassure her followers by explaining where the state is currently, and expressing her thanks to everyone who has been careful regarding the virus at hand.
"We are currently in Phase 3, which happened because of each and every one of you who did your part to flatten the curve," Whitmer wrote. "Thank you. Stay the course. We're going to get through this together."