STAFF EDITORIAL: State needs to amend laws to count online learning
MDE statement shocks students, parents, staff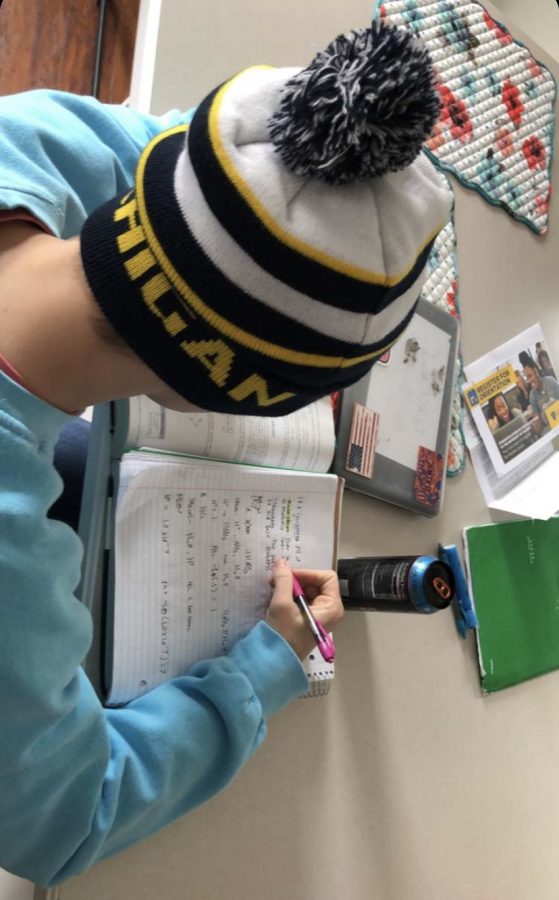 The Lotus Leaf staff has had weekly video meetings while MPS has been on shutdown due to COVID-19. After discussing this topic, sharing our opinions, and coming to an agreement, one staff member wrote the editorial. The editorial reflects the opinions of Lotus Leaf staff and does not reflect the opinions of MPS staff or administration.
     On March 20, the Michigan Department of Education released a memo stating that online learning and work during the shutdown time would not "count towards public schools' academic time." This was unexpected by students, staff, and families. If schools were shut down due to a public health emergency and online learning was occuring, then why wouldn't this time count? The decision to close was not up to MPS; it was a mandatory closure. Monroe Public Schools staff and teachers have been working extremely hard to provide students with learning materials and assignments. If students are continuing work at home, online learning should count towards our school year.
     Even though school is not holding face-to-face classes, learning is still being continued at home. Teachers are still posting assignments and lessons for students to do. If students are continuing to learn, then why shouldn't these days count towards our school year? Students have to not only do their work on their own, they have to do it without a teacher present face-to-face. Some teachers are holding video chats with students, posting video lessons, and utilizing outside resources to provide students with the material they would be learning as if they were in an actual classroom. Students are doing as much, if not more school work to teach themselves new lessons at home. If assignments and lessons are being completed and entered into the grade book, then there is no reason that the state shouldn't count these grades and days towards our school year in this unprecedented time.
     If we do not reach the number of school hours required to finish the year, some are saying this would result in continuing school into July or August. This is not the best option. By this time, seniors will be moving on to college. Seniors could be taking summer college classes and this would affect their schedules. Also, many families already have vacations, graduation parties, and many other events planned in the summer, which would mean their schedule, which has already and might further be interrupted by the pandemic, would have to change again.  Continuing school into late summer is not realistic; this would burn out students, who have already continued their learning during this break online. 
     Some may argue that not all students have the ability to do their school work online. In fact, that was the reason for the MDE statement. They stated that counting online learning doesn't abide by current law. While this may be true in some locations, MPS has provided its students with the necessary equipment and resources to partake in online learning. They have provided us students with chromebooks, chargers, and assisted in getting student internet access. This allows all students an equal opportunity to continue with their school work. Because of this, there is no gap in who can do their school work and who can't, at least not one that doesn't already exist during the school year. All students are given the same resources and opportunities to continue working at home; therefore, all students should have the ability to continue schooling online.
     In conclusion, students should continue to partake in their assignments online. If the state doesn't count these days towards the school year, they will be pushing back student learning. This gives students a reason to not want to do their work because they don't think it matters. In fact, Gov. Gretchen Whitmer was dismayed when she learned of the MDE statement and addressed it in a press conference, stating "As you know the situation has changed rapidly during the last ten days. We do not know what the future will hold, but we are absolutely committed to ensuring the needs of our students, parents and families are met as we navigate these uncharted waters. I will be working in the coming days to ensure our seniors graduate and that no child is held back as a result of our ability to provide face-to-face instruction during the COVID-19 school closure." The state legislature needs to further look into the amount of work that students, teachers, and administrators are putting forth during this time and change the current law to allow this to happen. These forced days off should count towards the school year.