Wrestling team honors seniors, earns individual accolades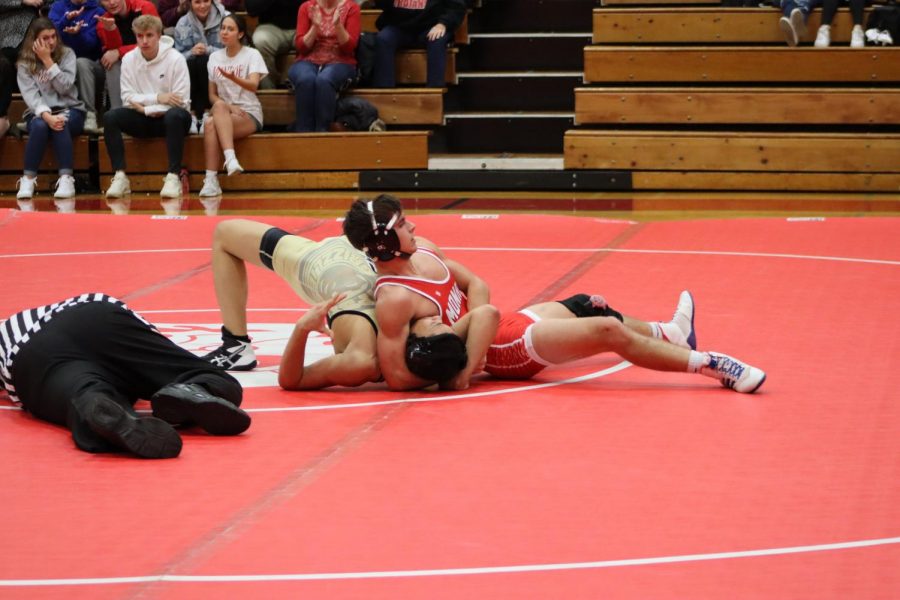 On Jan. 15, MHS Wrestling held Senior Night at a home meet against Saline, Ypsilanti, and Dexter at 5:30 p.m.
The senior wrestlers are Connor Martin, Luke McCollum, Troy Vajcner, Nathan Puccetti, Estevan Rincon, Skyler Evans, Anthony Payne, along with wrestlerrette's Tara Robinson and Erin Robinson.
Monroe lost to Saline 48-31. RJ Cicero won one major decision. Junior Cael Head, Payne, and Evans completed a pin. Martin received one decision, and Puccetti won one forfeit. Overall Monroe had one major decision, three pins, one decision, and one forfeit against Saline.
Monroe won against Ypsilanti 60-34. There was a total of seven pins, two decisions, and one tech completed by Monroe.
Monroe has a record of 10-4 so far in the 2019-20 season.
The captains of the varsity team are Head, McCollum, and Martin.
Martin said the team has continued to improve on their work ethic and chain wrestling.
"My favorite memory from this season so far is winning the Grosse Pointe North Tournament," Martin said.
McCollum plans to return to MHS to help out the program in the future.
"It's the best feeling to rally up the team and call out the name of the next wrestler getting ready to compete," McCollum said.
Varsity head coach Jordan Mayes said he enjoys watching the senior wrestlers grow as people and wrestlers.
"The season has been much better than last year. Our numbers are way up compared to last year. The kids are competing hard everyday," Mayes said.