Record number of BPA members qualify for states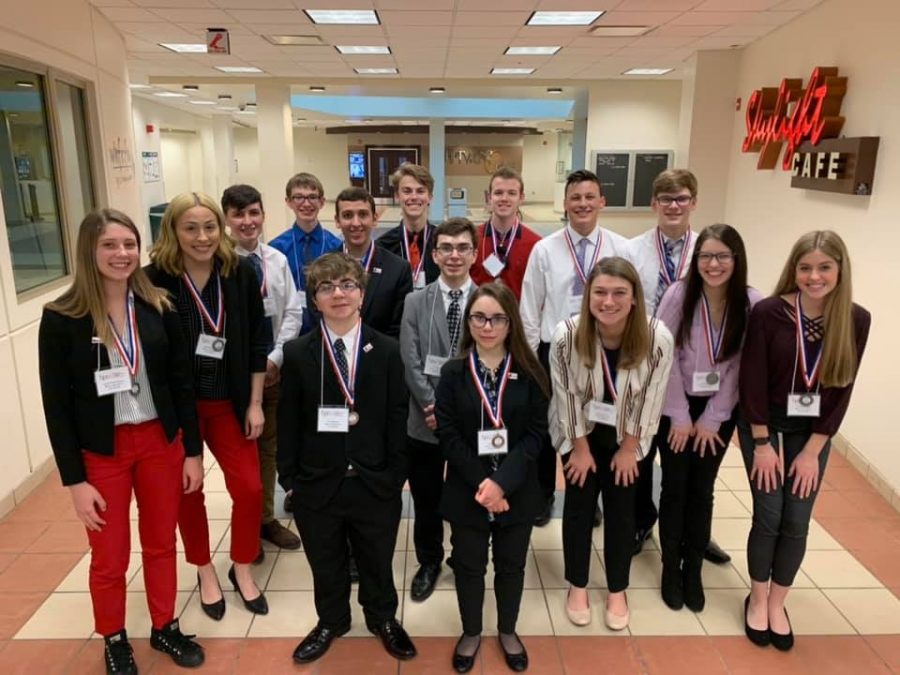 The Business Professionals of America regional competition took place on Jan. 10 at Henry Ford College. Twenty four BPA members competed at the competition and 19 qualified to move on to the state competition. The state competition will be held at the Amway Grand Hotel and Convention Center in Grand Rapids on March 19-22. 
There were three types of competitions in which members could compete. Individual events, team events, and open events. The top five in individual events and open events qualified for states and the top two teams qualified. Members could also qualify for states from torch awards.
BPA Advisor Anne Knabusch said this is the most amount of students that have qualified for states since she has been an advisor. Knabusch said she is excited to see how the members do at the State Leadership Conference. 
This was Senior Tylor Poore's second time qualifying for states. Poore competed in the broadcast production team and said preparation for the competition was intense this year. 
"Preparation was difficult this year because so much needed to be done," Poore said. "From needing everyone in the team to be around at the same time to renting out camera and greenscreens to actually filming and producing that film in a way to follow all the guidelines took a lot of work." 
While Poore had previous experience competing at regionals, it was senior Gavin Redden's first time competing in a BPA competition. Redden and his team placed second in their event, meaning they will move on to the state competition. Redden said he was surprised he made it to states. 
"I was shocked when I found out about making states," Redden said." I was trying to keep a positive attitude towards the competition but there was a small part of me that doubted that we'd make it."  
Here is the list of students who qualified for states:
Senior Antonina Anderson- third place in Prepared Speech
Senior Antonio Barron- second place in Computer Network Technology and second in CNT open event
Senior Kennedy Hatfield -Torch awards and second place in Advanced Accounting
Senior Darby Klemz- Torch awards
Senior Michael Hoffner-third place in Advanced Accounting and second place in Payroll Accounting 
Senior Tylor Poore- second place in Broadcast News Production
Senior Liam Brodie- second place in Broadcast News Production
Senior Jaylynn Struth- second place in Video Production Team
Senior Henry Germeroth- second place in Video Production Team
Senior Gavin Redden- second place in Video Production Team
Senior Logan Tucker- second place in Video Production Team
Senior Brendan Turner- fourth place in Advanced Spreadsheet Applications and Intermediate Word Processing
Junior Enzo Mignano- fourth place in Fundamentals of Web Design
Sophomore Iana Mignano- forth place in Graphic Design Promotion and third in Intermediate Word Processing
Sophomore Mackenzie Tucker- second place in Broadcast News Production 
Sophomore Isabella Seger-Wagasy- second place in Broadcast News Production
Sophomore Lexi Klemz-Torch awards
Freshman Tristan Mann-first place in Digital Media Production
Freshman Jaxx Mignano- third place in Graphic Design Promotion