MHS Interact Club receives award for Homeless Awareness Week activities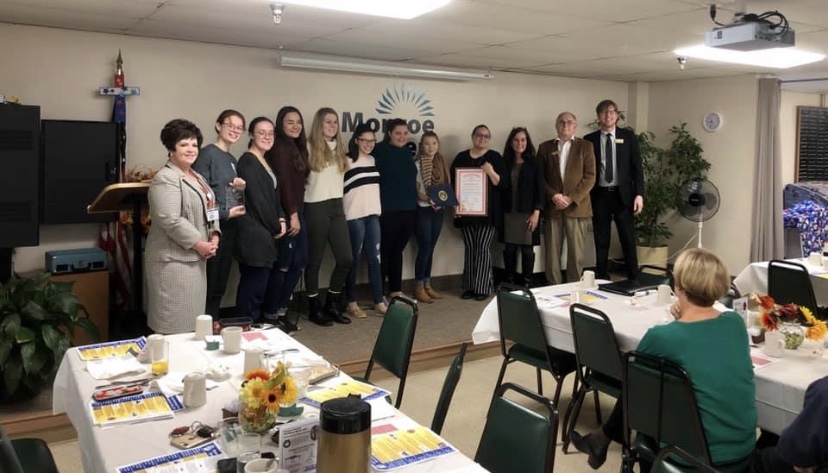 On any given night in Monroe County, there are 170 homeless individuals living in shelters, their car, or outside. 
The Interact Club at MHS has made it a priority to spread awareness with "Homeless in the Halls," an event where its members sat in areas around MHS holding signs with facts about homelessness. They also accepted donations for the cause.
Junior Layla Standifer, who has been a member of Interact for three years, said the Homeless Awareness Week activities are always rewarding. 
"Volunteering for the homeless makes me appreciate what I have in my life, and it makes me happy to see the smiles on people's faces when we help them," Standifer said. "Everyone is so thankful for what we do, and it's an amazing experience all week long."
The Michigan Coalition Against Homelessness also holds events throughout the month of November across Michigan and spotlights local events that shed light on homelessness, including Monroe's Homeless Awareness Week. 
On Nov. 1, the Monroe Senior Center hosted the kick-off breakfast, where Homeless Heroes awards were given to people that go above and beyond to help the homeless. 
An award was given to MHS Interact Club and advisor Sue Jones. Jones said Interact aims at strengthening communities and assisting homeless youth.
 "Part of Rotary's mission is making the community stronger and helping people to have homes and be self-sustaining, which helps the community all together," said Jones. "Interact has not only given to the Homeless Assistance Fund, but they also are focusing on the homeless youth initiative in Monroe."
 Many awareness events took place from Nov. 1-9, including Monroe County Opportunity Program's 29th Annual Walk for Warmth. This year, MCOP generated nearly $16,000 from the walk, making it the agency's biggest fundraiser ever.
 Stephanie Zorn-Kasprzak, Executive Director of MCOP and chairperson of the Monroe County Network on Homelessnss, stressed the importance of involvement in Homeless Awareness Week. 
"We want people in our community to understand the issue of homelessness and how people can get involved and help," said Zorn-Kasprzak. "Homeless Awareness Week activities helps us focus on our mission to end homelessness, one individual, one family, at a time."