Monroe defeats Ida in annual Teal Attack volleyball game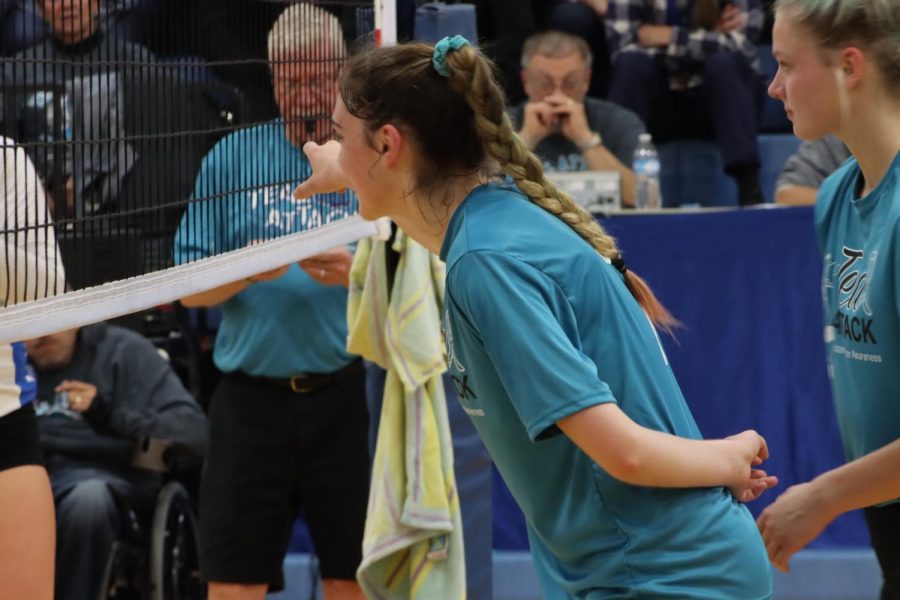 On Oct. 24 the varsity volleyball team played against the Ida Bluestreaks in the IHS gym at 7 p.m. This game is held every year, and the theme is Teal Out. The teal is in honor of ovarian cancer awareness. This year, around $7,000 was raised in one night.
The Trojans won three sets to one over the Bluestreaks. In set one, Ida won 28-26. In set two, Monroe won 25-20. In set three, Monroe won 25-13. And in set four, Monroe won 25-21.
Senior Varsity Captain and Libero McKenzie Peters said her favorite part of the Teal Attack game is the amount of people who attend the game.
"The team has come such a long way since last year. We are playing as a team rather than individuals and want to be there for each other," Peters said.
Peters said she is upset that this was her last Teal Attack game of her high school volleyball career. She said she was glad the team was able to pull out a win to continue their winning streak against Ida in the Teal Attack games.
Peters had five aces throughout the game.
Varsity coach Kari Honomichl is coaching her first year at MHS.
"We went in with a game plan, struggled a little at the beginning, adjusted our plan early based on what was happening and our team excelled at exploiting Ida's weaknesses and didn't stop until it was over," Honomichl said.
Honomichl is an Ida volleyball alumni, and she said her favorite part of the Teal Attack Game was coaching against her best friend Ashley, who is the coach of Ida's volleyball team. They have been best friends for 20 years, and they also played volleyball at Ida together. Honomichl also said she enjoyed being in the gym that used to be her home.
"With people we know that have had ovarian cancer touch their lives, it's an incredible fundraiser for a cause," Honomichl said.
Junior Middle Hitter Emma Chappell had 18 kills and seven blocks.
"My favorite part of the game was the energy coming from both sides of the net and the crowd. It was so nice to have students come and get riled up with us about the game," Chappell said.