CTE program implements new electro-mechanical drone design course at MHS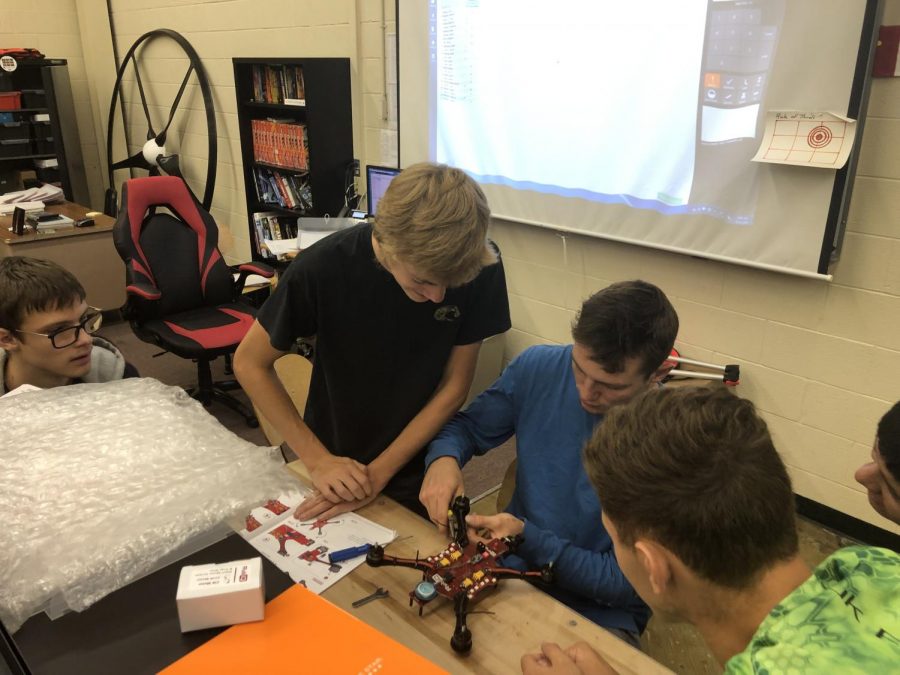 The environment at MHS this year is ever changing, from the new main entrance policy, the new phone policy, and now new CTE programs. MHS has started a new intriguing  CTE class that will stand out above the rest.
MHS has started up a new Electro-Mechanical Drone Design class for the 2019-20 school year. This class consists of learning about Unmanned Aerial Systems (UAS), otherwise known as drones. The students learn about the basics of UAV design, different mechanisms that allow the UAV to take flight, battery types, power sources, electronic speed controllers, brushless motors, flight controllers, and the laws and regulations when flying UAV's.
Electro-Mechanical Drone Design instructor Kyle Reed teaches the Electro-Mechanical CTE program at MHS.
"Students in my Electro-Mechanical 1 Drone Design class are introduced to the basics of electronics along with logging flight time. There are a total of four classes that students can take within the program and each level allows students to progress through the curriculum and build on prior knowledge as they explore UAV's, electronics, or even engineering as a career path," Reed said.
This course counts as a senior math credit if the student has completed the entire Electro-Mechanical program. Math is incorporated into this class on a daily basis. Students calculate flight times, use measurements, analyze data, and process information to determine flight paths.
The ultimate goal of this course is for the students to gain the Level 1 Safety Certification from the Unmanned Safety Institute. Students also have the opportunity to take the Part 107 Exam through the FAA to receive their Part 107 UAV license, which allows you to fly a UAV and make money while doing it.
Senior Gavin Redden is in the Drone Design course, and said that this class stood out to him over any other hands-on class.
"My goal by the end of this class is to hopefully be able to fly drones fluently and be able to do different tasks with them," Redden said.
CTE Director Stephen Pollzzie helped the Drone Design class become approved at MHS, along with allowing the students to use their phones in this course.
"MHS teachers are allowed to file a waiver with the building administration for students to use their electronic devices for educational purposes. Mr. Reed has filed for the waiver, and it has been approved for them to be used to fly the drones," Pollzie said.
MHS used close to $20,000 in state federal CTE funds for curriculum, equipment, and training.