Lotus Leaf sits down with new Director of Michigan State Police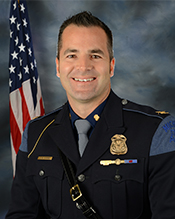 Soon after taking his position as 19th Director of the Michigan State Police, Col. Joseph Gasper made a plan to visit the local law enforcement to introduce himself and begin working on one of his goals, keeping communication between the state and local levels. 
Gasper visited the Monroe Post 14 on Jones Avenue June 18 where he sat down to talk to Lotus Leaf.
Gasper serves as director under Gov. Gretchen Whitmer, and also serves as State Director of Emergency Management and as Michigan's Homeland Security Director. He replaced his predecessor, Col. Kriste Etue, Jan. 1, and said he also plans to work on diversity in the police department and backlogs in the forensic science department.
"If you can leave the agency a little bit better than you found it, then that's a great thing," Gasper said. "Colonel Etue did a phenomenal amount in her eight years, so to make it better will be a tough thing to do."
Early years
Gasper first came into the department in 1988 and was placed in the Upper Peninsula at the Negany post; he stayed there for five years, not only doing road work, but also on undercover assignment. 
Then he came back over the bridge to be part of Gov. Jennifer Granholm's security detail for a couple of years. After that, Gasper went to Grand Haven to be a detective sergeant before going to Battle Creek to run a drug team for a year. Lastly, before being promoted to captain, he headed Gov. Rick Snyder's security detail.
Upsides
Gasper said that with the job comes a great lifestyle doing exciting jobs such as investigative work, lab work, or even vehicle enforcement.
There are even civilian jobs, which are important for the success of the department, where one can give back to society in a service-fueled organization.
"I've had a career full of really fun experiences, and I have had an opportunity to work with some phenomenal partners in both the police departments," Gasper said. "I've worked on some big cases, which afforded me the opportunity to travel the country."
While he said he loves his job, one of the biggest hardships for Gasper is the time he has to dedicate to the force, which in turn means not as much time with his family. He also said another big downside is the fact that while on the job, he is subject to some of the worst parts of society.
"We tend to see the evil of society and deal with a lot of tragedy," Gasper said. " Sometimes that can challenge your ability to be positive all the time."
Gasper said that he makes sure to de-stress as best as he can.
"I try to work out as much as I can because that is a big stress reliever for me," he said. "I also take a lot of pride in having discussions with the people that are around me. I don't think a lot of decisions should be left up to me. There's a lot of different perspectives, a lot of different information. I want to make sure I get input to make the best decisions I can."
Advice for Young People
For anyone interested in going into law enforcement, Gasper said that the State Police is a great career. The State Police runs recruiting school regularly. Information can be found at Michigan.gov. Gasper added that one doesn't need a college education to be a trooper. Recruits have to be 21 by graduation, so one can be 20 when entering recruit school.
Gasper said that his advice to anyone who might be interested in a career in the police department or to anyone choosing a career is to "find something you really love and to stick with it; don't get discouraged." 
He said he also wants people to know there will be challenges in life but remember to keep going. 
"Above all, try to stay positive. It's easy to go negative and say 'no' but it's a lot harder to stay positive and get to 'yes.' But we can get to 'yes' as long as we're innovative, patient, and we treat each other with respect because we're all at the table at the same time as equals having good conversation."