MPS administration recognizes senior academic success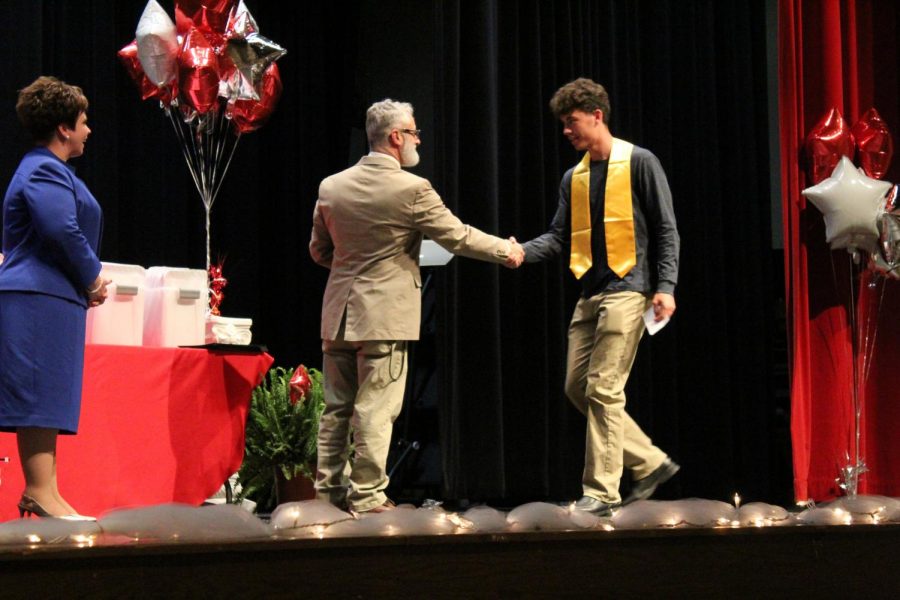 Over the past four years, the class of 2019 has learned, grown up, and persevered through their high school experiences. They have stayed up countless nights and dedicated immense amounts of time to achieve success. With the school year coming to an end, everyone is starting to reminisce about their four years, remembering all the achievements and memories for which they worked extremely hard.
On May 15, MHS held its annual Senior Awards Night in the auditorium at 7 p.m. During the ceremony, MHS staff honors the class of 2019 seniors for their accomplishments. One hundred and fifty five seniors were honored.
The student awards included Summa Cum Laude (3.9 or above GPA), Magna Cum Laude 3.7-3.89 GPA), Cum Laude (3.5-3.69 GPA), Honor Roll (3.0-3.49 GPA), Senior Scholars (high GPA and SAT 1700+), Top 100 students (high GPA and SAT), and several other achievement awards.
Staff member Rebecca Nye watched the class of 2019 grow due to her twins graduating this year.
"To see them here at the high school and at this point of graduation is just really awesome," Nye said.
The 30 senior scholars each gifted a significant person in their lives a Guiding Force Award, which is a plaque that a senior scholar gives to someone that has had a huge impact on his/her academic career and life.
NHS president, Summa Cum Laude, and senior scholar Drew Prater gave his Guiding Force Award to his mother.
"She has pushed me to be the person I am today and has always supported me in everything I've done," said Prater.
NHS vice president, Summa Cum Laude, and senior scholar Reece Lynch was elated to receive recognition for her success.
"Getting some of my cords made me really excited for graduation. It was also cool to finally get some recognition for everything I've done in high school," Lynch said.