Long time Monroe coach, assistant passes away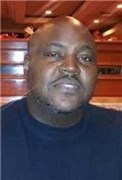 Hang on for a minute...we're trying to find some more stories you might like.
Darin Keith Hoskins passed away on May 23 at the age of 53 after battling kidney disease for years. Hoskins was born in Monroe on Feb. 23, 1966 and graduated from Monroe High in 1984. Hoskins worked at MHS for more than 20 years and also coached basketball at MHS, St. Mary Catholic Central, and other AAU teams. Each year he also ran the Darin Hoskins Summer Basketball League.