Human trafficking remains a worldwide concern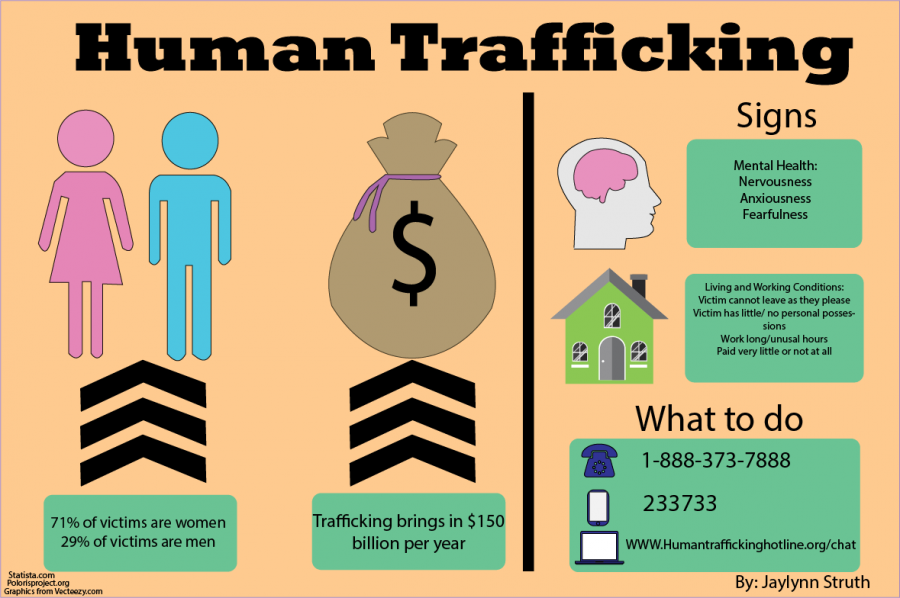 Human trafficking: a worldwide concern
You're walking to your car at 10 p.m. after work, it's dark and you're alone, looking around for anything that could be suspicious. From the corner of your eye, you see a beat up, filthy car slowly driving by. You start to speed walk towards your car, you cannot see the driver because it's dark and the windows appear to be tinted. The car starts coming closer to you; there is no one around besides you and the frightening car. You sprint to your car, get in, and lock the doors. The car rushes away.
This is a terrifying reality for people all around the world. It has become a known fact that things have changed from how they were in previous years. According to The Human Trafficking Center, approximately 20.9 million people are currently being trafficked globally.
What is human trafficking?
The Department of Homeland Security defines human trafficking as a "modern-day form of slavery involving the illegal trade of people for exploitation or commercial gain." This is broken into two main types: forced labor and sexual exploitation.
Trafficking can happen to people of all ages, races, and genders. The most common age group of trafficking victims is between 10 and 30 years old. Victims can be outside of this age group, but these are the ages traffickers typically look for. The age group with the most men is before age 10 and over the age of 30, while the most women victims are between the ages of 15 and 25. Minors make up around 50 percent of trafficking victims, making them at highest risk (NBIC.gov).
Women make up 71 percent of the trafficking industry (humanrightsfirst.org). Although, women have a higher chance of becoming a victim, men also have the same fear. Gender plays a key role in trafficking when it comes to the reasoning behind being trafficked. Women are more likely to be trafficked for sexual exploitation, while male are more likely to be trafficked for forced labor.
This industry has become so large in recent years because of the profit it brings in. Human trafficking earns roughly $150 billion per year. Sexual exploitation brings in the most, ending up around $100 billion per year, followed by forced labor in construction and manufacturing making approximately $34 billion (humanrights.org).
Trafficking in Monroe
Many times, we do not believe that problems such as trafficking can happen to us. We are safe and comfortable because we haven't heard about any problems, so why should we fear? However, human trafficking has hit close to home. On Oct. 11, two Monroe County residents were arrested with multiple charges related to human trafficking.
Tori-Brothers Hilton (28) and Anthony John Miller (22) were charged with human trafficking of a minor. The victim was a 16-year-old female who was living with the suspects at the time. The Monroe County Sheriff's Office conducted the investigation at the house of the suspects in the 600 block of Patterson.
The police department received a call, notifying them of a possible human trafficking situation. The group of people living in the house were having problems paying their bills. This led them into trafficking the victim.
In an article from Monroe Evening News, Maj. Jeff Kemp from the sheriff's office said, "This is the worst case of human trafficking that I've seen here in Monroe County." These trafficking cases are making residents of Monroe County concerned.
Junior Krista Hall is worried about her safety and the safety of others due to trafficking emerging in Monroe.
"I keep pepper spray in my purse, and I also keep my keys between my fingers. At work when I take out the garbage at night, I have someone come with me in case something were to happen," Hall said. "I also use a buddy system for public restrooms."
United States Customs and Border Protection Officer Erick Pillette said the reason trafficking is occurring in Monroe is due to its location between Detroit and Toledo.
"As for Monroe, they are a small reflection of the North and South. Monroe has an area of socioeconomic problems just as the larger cities do," Pillette said. "The biggest problem for Monroe is its location. What better way to hide than 25 miles away from where all the action is, which slowly brought the problems of both to the city."
Spotting the signs
There are many signs that can help you identify a victim, and knowing the signs of someone who could be a trafficking victim is the first step.
Mental health signs can be a sign of concern, such as the victim always seeming anxious, tense, fearful, nervous, or depressed. Poor physical health and appearance is also a clue. Working and living conditions where the victim cannot leave as they please is a red flag. If they are paid very little, or not at all while working very long or unusual hours, they might be a victim. A trafficking victim may also have very little personal possessions. A victim might also look to capture the approval from another before speaking.
If you believe you have information on a trafficking situation, contact The National Human Trafficking Hotline at (phone) 1-888-373-7888, (text) 233733, or (online) humantraffickinghotline.org/chat.