Kavanaugh decision causes uprise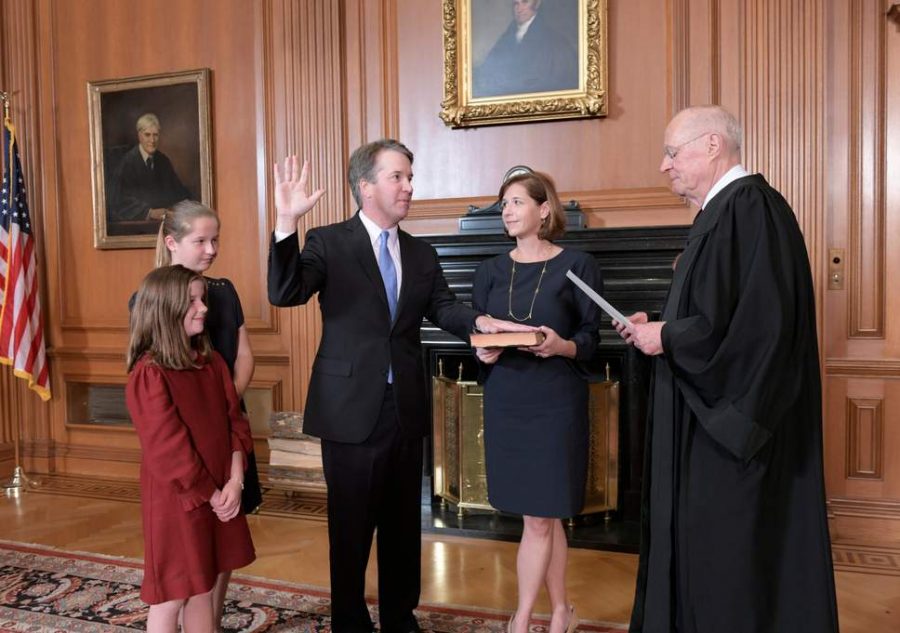 Brett Kavanaugh. The name rings throughout the halls. Women all around the world are standing united, hand in hand as they support each other and the women that were allegedly abused by Kavanaugh. The #MeToo movement stands in support of all women that have been abused or assaulted.
Brett Kavanaugh was sworn in as America's 114th Supreme Court justice on Oct. 6, despite the allegations against him. It has been reported by several women that Kavanaugh has sexually assaulted them, but Kavanaugh denies the accusations. Although President Donald Trump nominated and supported Kavanaugh for the position, many people are outraged.
Senior Makenzie Brown said that she feels it is ridiculous Kavanaugh was even considered for the position.
"It genuinely makes me so mad that a person who was even accused can become such a huge part of our political system. I think it's ridiculous and it shows that America doesn't care," Brown said. "It tells teenage boys that as long as they don't get caught, it's fine."
Junior Shiloh Smith said he feels surprised that they would elect Kavanaugh into the Supreme Court.
"I feel kind of shocked that they would do that, knowing that he may have done things to women. The fact that he still got elected into the Supreme Court is kind of scary," Smith said.
Senior Stormy Garcia said she feels that they should have investigated the situation more before making a final decision about Kavanaugh.
"I think they should have cleared the air before they let a potential rapist be sworn in," Garcia said.
United States President Donald Trump said that he feels that Kavanaugh's accusers should be penalized for making "false accusations."
"I think that they should be held liable," Trump told Fox News reporter Jeanine Pirro. "You can't go around and whether it's making up stories or making false statements about such an important position, you can't do that. You can destroy somebody's life."
None of us can really know what really happened with Kavanaugh and all of the women that made accusations against him, but many people have already made their speculations. Overall, the decision has already been made, so we as a nation will have to wait and see if this decision was for the better or for the worse for America and all of its people.