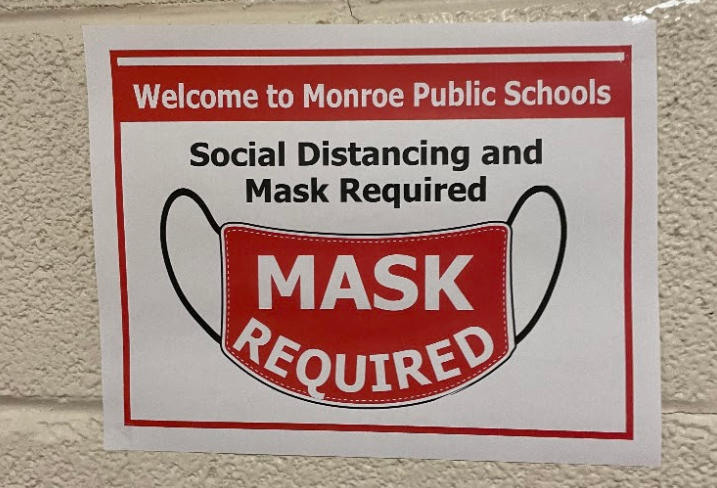 The Monroe Public Schools' school board approved the Return to Learn Plan last Tuesday, beginning the transition to in-person schooling throughout the district. MHS will begin in-person classes for Freshman this upcoming Monday, which will also begin a new schedule for all MHS students. 
Schedule Changes
Sophomores, juniors and seniors with the last names beginning A-K will be attending remote lessons from 7:23 a.m. and ending at 2:11 on Monday and Wednesday, with Tuesday and Thursday as asynchronous learning time. Students with the last names beginning L-Z will be attending remote lessons from 7:23 a.m. and ending at 2:11 on Tuesdays and Thursdays, with Monday and Wednesday as asynchronous learning time. Fridays will consist of a half day schedule, beginning at 7:23 and ending at 10:30, including TFT. Beginning Monday, Mar. 15, all students choosing to return to school will begin attending in-person classes reflecting the remote learning schedule. 
Food distribution and Lunches
Lunch will be during the student's fourth hour classes. There will be A, B and C lunches depending on the teacher, which will give students 21 minutes to eat lunch. Students can bring lunch or get a school lunch, which will be dropped off at the door of each classroom. This will remain the only time of the day when students will not have to wear their masks. 
"Students will be allowed to take off their masks to eat and drink, but once they're done eating, each student will clean and disinfect their space," said MHS Principal Steve Pollzzie. Breakfast will also be available at the end of each hallway before the first hour, and students will be able to take their breakfast to their class and eat there. Students are not allowed to eat in the hallways or anywhere outside their class. 
Transportation
Busses will be less populated, considering the fewer number of students each day. Following social distancing restrictions, students will have assigned seats that will be spread out as much as possible. Upon arrival at MHS, students will be dropped off at the entrance of each wing depending on where their first hour is located. Students driving or being dropped off will also be expected to enter the school at their appropriate wing nearest to their first hours.  
Covid safety precautions 
MHS will be taking several steps to ensure the safety and good health of all students. This will include an all-day mask requirement besides lunch time, social distancing, ongoing disinfection, and more. Hallways are all one-way to spread students apart. Classrooms have spaced out desks six feet away from the next, while still having enough room to safely fit all students that will be in a class each day. Each classroom will be equipped with enough desk shields for each student, which is a tri-fold transparent shield blocking germs. "It's what a science fair board looks like," describes Pollzzie. "We decided to use them to ensure that students will be protected at all sides when seated." 
Procedure requirements 
Monroe Public Schools has made requirements based on CDC approved recommendations for public spaces like schools. While MHS remains a large school, there will be less students in the building each day due to hybrid learning. Still, large congregations will not be allowed, including standing in the commons before school begins and large crowds in between hallways. Masks must be worn at all times. Students that do not comply with these procedures will face consequences, and they may not be allowed to participate in in-person learning. "If students choose not to follow these procedures, they will be learning from home from the remainder of the year," Pollzzie says. 
Student reactions 
The entire student body has faced multiple changes throughout the past year, but returning to in-person learning is the most prominent and impactful. 
While some students are choosing to remain remote because of valid safety reasons, senior Triamce Turnage trusts the administration's decision. 
"I don't think that our school board or principal would encourage us to return to school if it wasn't a good choice. I know they take things seriously and won't let it get out of hand," Turnage said. 
On the other hand, some students are deciding to stay remote because they've gotten used to the remote schedule. 
"I've been working, going to the gym, and balancing school," said junior Emma Collyer. "I wouldn't be able to do all of that if I went back to school, and I'm afraid it wouldn't be good for my mental health." 
Regardless, Pollzzie said that just as it was before Mar. 13, 2020, school comes first. "With remote learning, we had a lot of flexibility with our schedule, but the school schedule is our student's number one priority," Pollzzie said. "This will have to be a team effort, and we must all put our best foot forward."
View a full interview with Mr. Pollzzie here: