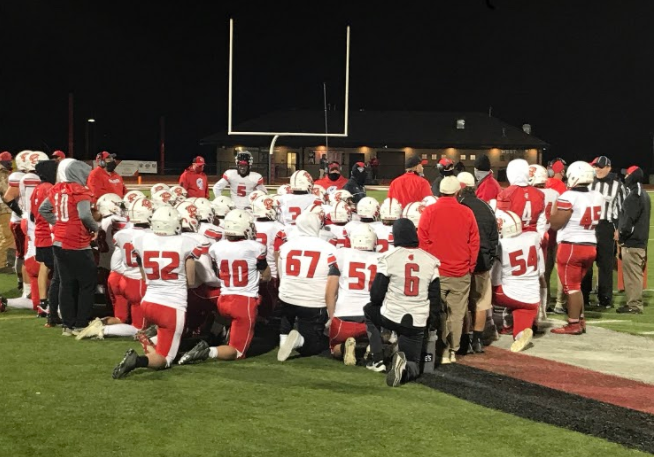 Monroe High took its very first win of the football season against the Pirates at Pinckney in overtime on Sep. 18 with a score of 26-20. 
Senior A'Davian Billingsley made his first touchdown of his high school career and intercepted the ball in the last four seconds to keep the Pirates from scoring, sending the game into overtime. Senior Ashton Elmer made a game-ending interception in overtime, ending and winning the game for Monroe.
Early on in the game, the Trojans took the lead, but by the end of the first quarter the Pirates had tied the game at 6-6. In the second quarter, Elmer threw a touchdown to Billingsley to take the lead once again. By halftime, the Trojans had expanded their lead 20-13. Three-and-a-half minutes into the third quarter, however, the Pirates had once again tied the game 20-20. No other points were scored by the end of the fourth quarter, and the game went into overtime.
Senior Owen Thomas had a great defensive game, including a first half interception. 
In overtime, senior Jacob Blosser scored first for the Trojans and then Billingsley intercepted the ball from the Pirates to prevent them from scoring, and Elmer made the winning catch, winning the first game of the season for Monroe 26-20.
Billingsley remained humble about his interception and touchdown, asserting that he only did what he felt his job was as a football player.
"You have just got to go out there and make the play when a play is needed to be done," Billingsley said.
Elmer, who caught the final interception in the end zone to win the game, was proud of the way his team worked together to win the game.
"We had good character and just fought," Elmer said.
Head Coach Nick Notario was happy that his team won, but demonstrated caution noting that there were some things the Trojans could do to improve their performance.
"They say you learn things in a loss, but it's always better to learn things in a win," Notario said. " It's a good thing we won, but we're going to keep looking at film, correcting our mistakes, and there's going to be a big jump in performance between game one and game two."